The following news clips below are related to the first edition of Daisy's Reality Show Adventure which was published in 2013. In this updated version of the Rat Terrier's satirical story, released in late 2017, Daisy uses her bark to offer advice as America's Ultimate Comfort Dog. As a wise elder dog, she counsels the disillusioned and disheartened in these tumultuous times and helps them find ways to cope.
LA Magazine – Los Angeles Magazine
The 2013 Mother's Day in Hollywood Gift Bags
Distinctive Assets "Mother's Day in Hollywood" Gift Bag Wowed This Year's Famous New Mommies
Click on the following links:
May 1, 2013
Word Press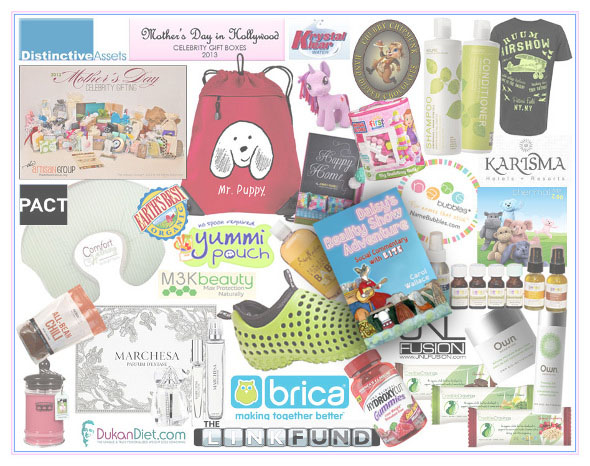 2013 HollyWOOF A-List Doggie Gift Bags
August 9, 2013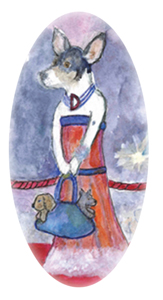 Since 1999 Distinctive Assets has been providing some of Hollywood's biggest stars innovative canine-related gifts for their pampered pooches. The 2013 gift bags included the e-book version of Daisy's Reality Show Adventure and associated note cards from The Daisy Collection.

Fifty-three lucky dogs (and one cat) received the goodie doggie bags.
Recipients include:

Oliver and Douglas Fairbanks Barrymore
Tinkerbell, Prada, Baby Bear, Marilyn, Peter pan, Harajuka, Dollar, and Annabelle Hilton
Thumblina, Bessie Moo, Tulip, and Tinkerbell Abdul
Julio César Chávez Lopez
Sid Osbourne
Bernard Higgins Kardashian
Bean, Floyd, Happy, and Mary Jane Cyrus
Isaboo Ray
Pom Pom and Larry Griffin
Izzy Graham
Penny Lively
Brennan, Buckley, and Tina Timberlake
Maui Tisdale
Rumi and Kai Swank
Coleman Hawkins Stonestreet
Wolf and Mabel de Rossi
Junior, Alfie, Coco, and Taco Milan
The Animal Life
Online Publication
August, 2013

Waterbury Republican-American
Published in The Sunday Republican edition, Waterbury, Connecticut
November 11, 2013
Local author Wallace pens satirical e-book
Local author/illustrator Carol Wallace has written an e-book titled "Daisy's Reality Show Adventure," a satire of popular culture as seen through the eyes of a country dog. Wallace describes the tale as a fun trip with Daisy, the rat terrier, as she pursues fame and fortune in a doggy tale world of show biz and reality TV.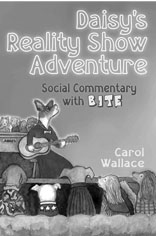 Wallace, who lives on a mini-farm in northwestern Connecticut with her husband, Rick, has had dogs and cats in her life since she was a child. Her first whimsical paintings of dogs were created when her children were young--they got into her oil paints and decorated the walls in her home. The artist quickly changed to watercolor painting and had the kids paint along with her...many times the subject was King, the family dog. This penchant for doing whimsical paintings has re-emerged from time to time throughout the years, and is now an adjunct to her more serious gallery and commission art. Wallace has been listed in Who's Who in American Art since 2007. Wallace is also the founder and director of two preservation ventures that involve her writing and artwork, Preserve America and Gatekeepers of History. Her introduction to writing came when she needed copy for the note card and poster line associated with those two projects and decided to write her own copy instead of hiring other writers.
Dogs were chosen to be the characters in Wallace's book because there are so many different breeds with distinctive personalities which fit into her vision of creating this account about a rat terrier who becomes a super terrier.
The Litchfield Country Times
Published in LCT Magazine, Litchfield, Connecticut
Thursday, October 24, 2013
Carol Wallace's Focus: Preservation Through Paint
An excerpt from the article:
A second exciting advancement in Mrs. Wallace's career is that her first book, "Daisy's Reality Show Adventure," which she published as an E-Book in November 2012, will be made into a hard copy next year.
"I'm a night owl, so my husband would go to bed and I would be up watching reality shows," Mrs. Wallace said in discussing the origin of her book. "I decided to write a book. I had two pages and foolishly I sent it out to publishing companies. An editor in L.A., who edits humor, got in touch and told me there's nothing out there like this. If you're interested, I'll help you."
It was a long and difficult process–one of the toughest parts being the creation of the artwork, which should come as a surprise for this seasoned artist. She had planned to ask other artists for help because illustration was not her strong suit, but she stuck with it, finishing the entire book in time for Christmas. The book was included in Mother's Day Hollywood gift bags created by Distinctive Assets. The bags, with book inside, were given to Jessica Simpson, Snooki and Holly Madison to name a few. Now, "Daisy's Reality Show Adventure" will be made into a physical book in time for Mother's Day next year.